Unboxing and Installing the Midnight II Crochet Wig from our Daughters of Moon Wig Collection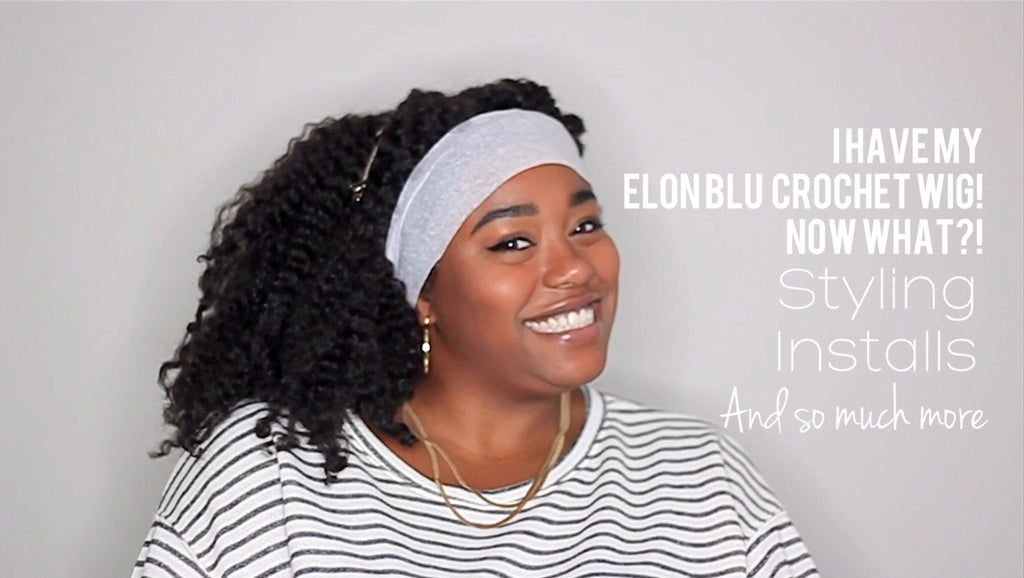 Welcome all, we are unboxing a unit from our Daughters of Moon Wig Collection today, and guiding you through the process of applying and styling this new look.

A little about our crochet wig units,
We use a modacrylic synthetic fiber with a natural look and feel. Our caps are
breathable, lightweight and quite comfortable to wear. Each wig unit is hand made and some come sectioned and pre-twisted
PRE-CARE
The health of your natural hair is priority number one. Pre-wash and condition your own hair first. Be sure to oil your scalp and moisturize your hair, especially if you intend to install the wig unit by sewing it in or if you plan to wear the wig unit for an extended amount of time.

BRAID ME
One of the benefits of our crochet wigs is our one size mesh cap. It stretches to your head size, allows quite a bit of hair to sit underneath comfortably. For best wear, we suggest tying your hair back in a low ponytail or braiding it down in 2 to 8 cornrows. With either options, be sure to leave a part wherever you intend to part your wig.
UNTWIST ME
The back of each of our wig units is identified by a tag. Placed the unit on a mannequin
head with the tag at the nape of the head. Untwist the entire unit starting at the ends of
the hair and working your way to the scalp of the unit. (If you come across any snags, gently lift the loose strand of hair up and out of the twist with your finger and continue untwist as you move up.)
CURL ME 
Wrap the ends of your twist around a curling wand. Place the wand between a flat iron and pressed together gently for two seconds. (Be sure the heat does not exceed 300°F.) Continue this wrap and press method throughout the entire wig unit.

LAY ME
To create a more natural and complete look with little to no leave out, each unit comes with baby hair, that can be manipulated to look like or blend into your natural hairline. Once the unit is on your head, fluff the baby hair of the wig unit out, so that you are able to separate small pieces of those hairs and with a hairpin pin them down. This technique helps secure the wig unit as well as prevent lifting from wind or natural wear.

**optional
Hair glue or hair gel can completes the look even more especially if you have a unit that is not your natural hair color. Lay down your own baby hair first and than lay the baby hair of the wig unit over it while still wet. Wrap your hairline and allow a few minutes for the glue/gel to dry. Fluff the baby hair a bit once you remove the wrapping.
SECURE ME
Our wig units come with an elastic band round the entire perimeter, that hold the unit to your head. For a little more to secure, with a hair pin, grab the net around the perimeter of the unit over the elastic band and tuck under the unit. Do this around the perimeter of the wig unit where is needed. (If done in the back, it allows you to style your wig unit in a high ponytail.)
INSTALL ME 
This part is best done with a partner, so grab a helping hand.) Place your wig unit on
your head fully twisted and leave the hair twisted until after the wig unit is installed. This allows for a more efficient sew-in process. Adjust the wig unit where you'd like it to sit on your head. Follow along the grid of the cap as you sew, attaching the cap to the braid of your natural hair. This process allows you to wear your unit for 2 to 3 weeks at a time depending on care.
Watch Full Video
qamra Clarke